About PerfTestPlus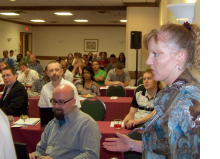 Overview:
Scott Barber founded PerfTestPlus on the concept of making software testing industry expertise and thought-leadership available to organizations, large and small, who want to push their testing beyond "state-of-the-practice" to "state-of-the-art." PerfTestPlus leadership is dedicated to delivering expert level software-testing-related services in a manner that is both ethical and cost-effective.

Expertise:
PerfTestPlus enables individual experts to deliver expert-level training and services to clients who value true expertise. Rather than trying to find individuals to fit some pre-determined expertise or service offering, PerfTestPlus builds its services around the expertise of its employees. What this means to you is that when you hire an analyst, trainer, mentor or consultant through PerfTestPlus, what you get is someone who is passionate about what you have hired them to do, someone who considers that task to be their specialty, someone who is willing to stake their personal reputation on the quality of their work - not just the reputation of a distant and "faceless" company.

Leadership:
Today, PerfTestPlus is a company of names and faces. You may even recognize our founder, consultants, and advisors from conferences, workshops, books, magazines, Internet forums and blogs. We believe that expertise in the world of consulting is something bestowed upon the consultant by his or her clientele, not something earned through achieving the proper certifications, reading the right books, or accumulating enough relevant experiences.

Integrity:
Defining expertise personally and situationally is only one of the ways PerfTestPlus takes its integrity seriously. Scott Barber did not go into business to get rich or to take advantage of clients. He went into business so to create a company where consultants that share his vision could provide services that they believe are valuable directly to the clients who need them, without a corporate executive who still can't figure out how to send an email telling them how to deliver their service, how many hours to bill to accomplish it and what the rate will be. PerfTestPlus employees decide what projects they want to take and scope the project directly with the client without executives trying to influence scope or delivery.

Copyright © All rights reserved.