Let's Level-Up!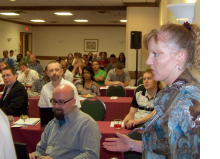 Do you want to level-up? How about your team? Maybe even your whole organization! Odds are, you've already gained those early levels, so maybe it's time for a little assistance. If so, look no further. PerfTestPlus wants to be your level-up partner!
We don't have a magic template, check-list or so-called 'best-practices' manual to follow. We don't even have pre-packaged level-up service options to choose from. Why? Because we *know* that every individual, team and organization is unique. When you engage us to be your level-up partner, the one thing you can be absolutely certain of is that we will collaborate, brainstorm and customize a level-up program that is as unique as you and your needs to help you achieve the level you desire and maintain it after the engagement.

Level Up Concepts
Liminal Thinking
Aligning Org, Tester and Context
Needs vs. Assumptions
Continuous Evolution
Scope, Scope, Scope
'Me' to 'We' Thinking
The Dangers of 'Comfortable'
Copyright © All rights reserved.