Courseware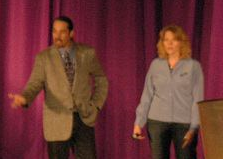 PerfTestPlus training is designed to be thought provoking and interactive. Rather than instructing you in our favorite technique or approach and calling it a "best practice", PerfTestPlus instructors provide you with the tools and methods you need to resolve your challenges and improve your techniques. While we may present you with new approaches and techniques, only you can decide what is really best in your context.
It is for this reason that as you review the courseware, you shouldn't be surprised to find concepts to consider without implementation models. We Those kind of project specifics are things we believe can only be determined through collaboration with individuals with direct knowledge of the project and it' context. In other words, this courseware is great for providing you with more information about what discussions are likely to occur when we are delivering the course. Where those discussions will lead; however, is entirely based on the questions asked and details provided by students in the course.
Courseware

Copyright © All rights reserved.